Experience our showcase
to see the latest innovations
and demonstrations
Interact with your fellow delegates and discuss with Nokia subject matter experts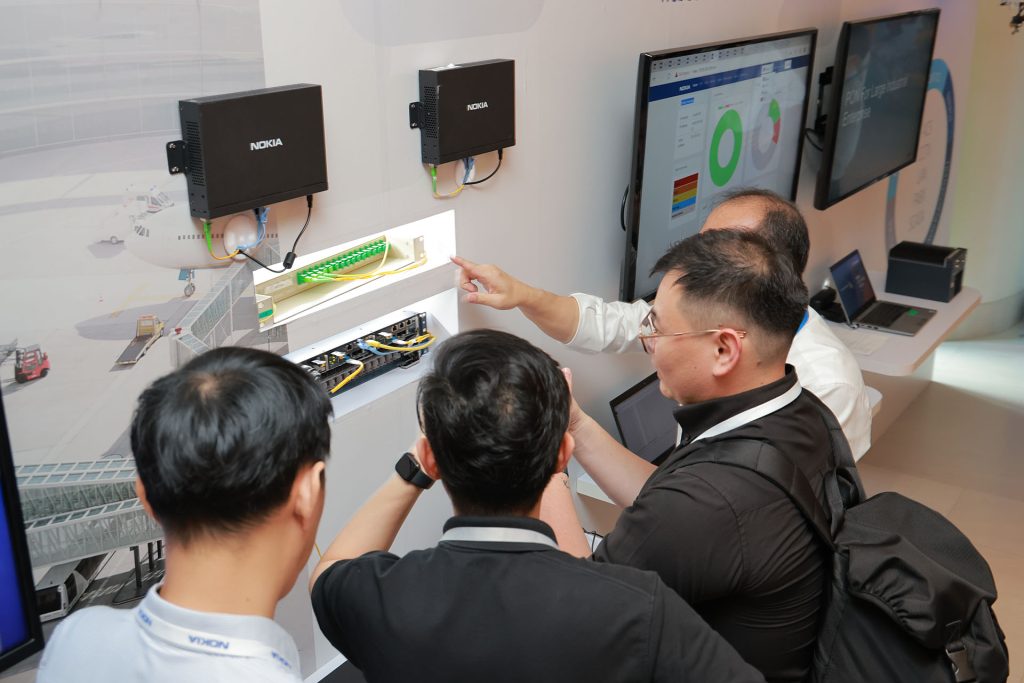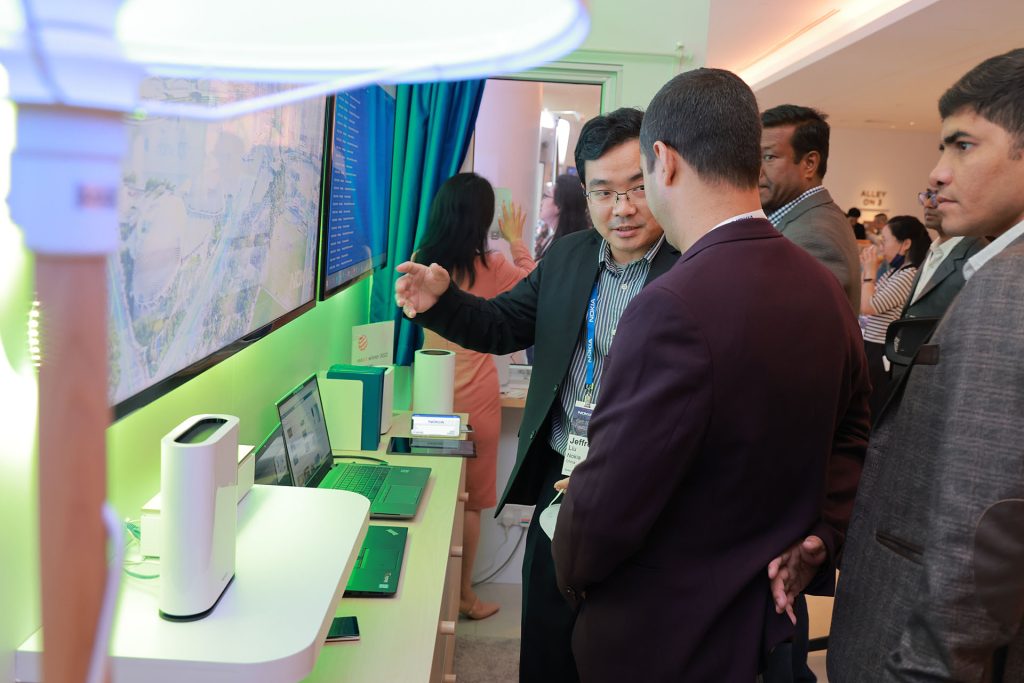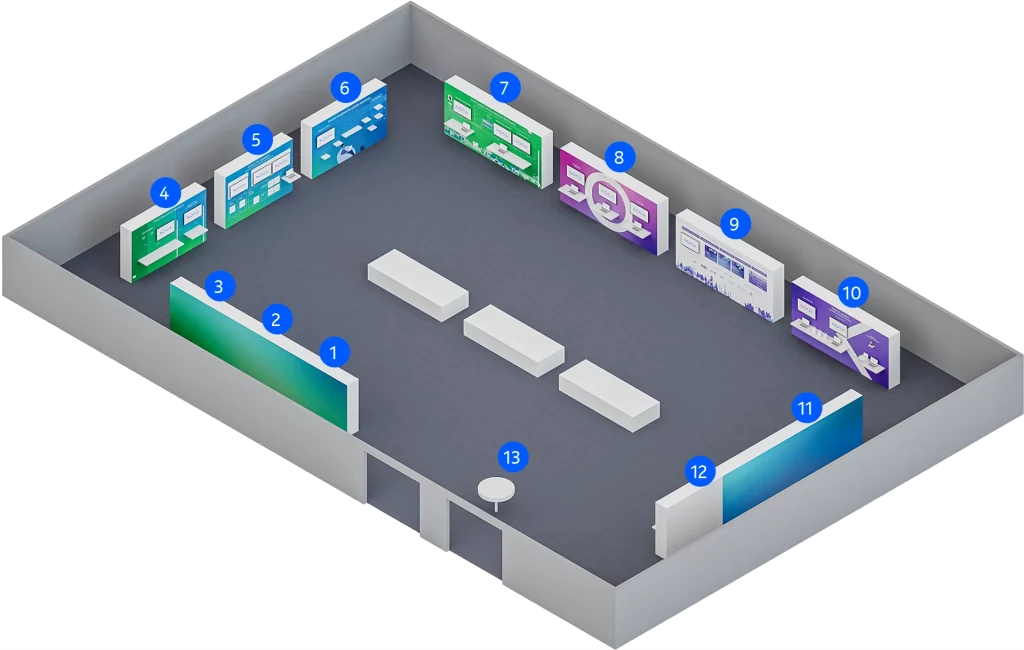 Fiber for Everything – PON for 5G mobile fronthaul
Nokia is the first to demonstrate that PON networks meet the capacity, coverage, and latency requirements for 5G mobile fronthaul, paving the way to more efficient 5G deployments and more monetization opportunities. Upon successful trials with two leading operators in APAC, we are now bringing this demo to GTFF.

The live demo shows that PON meets very strict performance requirements for 5G fronthaul based on the eCPRI.

In this demo you can see :
Industry-first 25G PON for 5G small cell fronthaul
Benefits for 5G small cell deployments in dense urban environments
How you can reduce mobile transport OPEX when converging residential and fronthaul traffic on the same PON
Fiber for Everything – Portfolio to connect everything, everywhere
Nokia has an unmatched fiber portfolio that enables operators to connect everything with fiber in most optimized way.
Based on our Quillion chipset, all Nokia OLTs support GPON, XGS-PON and 25G PON. This extends the lifetime of the OLTs and protects the investment. Variety of OLT form factors help to optimize the deployments in any environment, from large urban areas to low dense deployments.
Our ONT portfolio will cover residential, enterprise, or mobile transport applications, with variety of PON technologies and Wi-Fi functionalities.
Join us to see:
Our premium fiber platform Lightspan MF, the industry 1st OLT designed for 25G, 50G and beyond
Our small form-factor OLTs to fine tune deployments in low density or distributed deployments
Our ONT suite covering Wifi7 and 25G PON capabilities
Fiber for Everything – Low latency for high revenues
This Nokia Bell Labs demo is the industry's first demonstration of low latency in PON. Low latency is becoming one of the key enablers of more revenues. This innovative technology from Bell Labs is lowering latency on PON and bringing true Time Sensitive Networking (TSN) capabilities.
Understand how low latency combined with high capacity can unlock high revenue-generating opportunities for:
Enterprise services
Industry 4.0
Mobile transport and more
Unleash the power of 5G with FWA
Nokia's Fixed Wireless Access devices deliver high performance thanks to an in-house design and superior device onboarding, including augmented reality self-install, friendly guidance from a mobile app, and EasyMesh capability.

Use Nokia FWA to deliver fiber-like broadband connectivity to generate more revenues, fill coverage gaps, and compete in new markets.

Learn more about our FWA leadership:
Innovative high-gain antenna design and agile 360° beam alignment for mmWave technology
Application containerization for value-added services
Superior self-install experience with augment reality
Delivering superior user experience and streamlined operations
Corteca empowers CSPs to deliver unbeatable customer experience by solving connectivity issues before the end-user detects them and by automatically optimizing Wi-Fi performance
In this demo you will find:
Corteca Home Controller, which empowers network operations and customer services with home Wi-Fi real-time visibility and rich metrics that enable cause identification, self-healing, remote healing, and resolution recommendations.
FastMile FWA Controller, which addresses the major FWA CPE lifecycle management issues from Service Qualification, Service Fulfilment, to Service Assurance & Optimization.
Smarter broadband for a better experience
Introducing Nokia Corteca, a revolutionary software suite that elevates the Wi-Fi performance and coverage, while allowing the implementation of value-added applications into your in-home broadband devices.
This end-to-end software solution empowers Communications Service Providers to unlock new sources of revenue, enhance customer experience and reduce operational costs.
Corteca resides in the cloud, in the home, at the fingertips of your customers, and right before the eyes of your support team.
Smart Optical LAN for enterprise and industry
Nokia Optical LAN provides the most advanced networking performance needed for the modern business yet is cheaper to run and much greener, contributing to your ever-more important sustainability goals.
See it in action, along with our new PoE ONT and intuitive WebGUI management interface.
Accelerate new technology introduction and RoI
Nokia Professional and Outside Plant Services help you accelerate into Gigabit broadband technologies and cloudification while increasing your return on investment. Move fast and learn fast by complementing your strengths with our expertise. Learn more about our comprehensive services portfolio, where we have something to meet every deployment need.
Accelerating your fiber rollout. Design and engineering services help you reach subscribers fast, reduce costs, and boost rollout capacity by 25%.
Connecting customers quickly and efficiently. Applying automation and activation services means you can move faster to revenue and save 50% in ONT activation costs.
Fast-tracking cloud services and applications. Master the complexities of software-defined networking and apply it where and when it makes sense to increase your operational agility.
Getting peak performance from your network. Implement optimization tools and analytics to gain insights that improve performance and proactively resolve problems.
The rise of the neutral host network
The continuing high demand for fiber broadband presents a compelling opportunity for network investors to build a FTTH wholesale business. The open access model is gaining traction, especially in markets that do not have nationwide fiber coverage.
It is an attractive way to accelerate uptake and improve network monetization. This demo shows how the Nokia Altiplano Open Access solution enables a powerful and versatile way to do neutral-host network sharing and offer gigabit broadband services to more end users.
Nokia is powering the biggest and most advanced neutral host networks in the world. This demo shows how the Nokia Altiplano Open Access solution enables a powerful and versatile way to:
Improve the return on investment and network monetization
Build a neutral-host fiber network
Separate infrastructure from services
Meet the needs of small and large VNOs
The world of wonders: Innovative concepts and prototypes
Today, the world depends on high-speed broadband for work, study or play, where everything is cloud connected.
But how will this broadband connection evolve tomorrow?
Here we present a hands-on showcase of the future of broadband:
Unbreakable Internet. In the event of a service failure, wireline/wireless convergence enables automatic fallback of internet services from a Nokia WiFi Beacon to a smartphone 5G connection.
5G Instant Connect. Our FastMile FWA agent automatically switches from wireline to 5G, or vice-versa.
Generative AI dream studio and photobooth. Come learn and experience first-hand the creative power of AI for image creation and photo manipulation, as a containerized application.
On-demand network slicing
The broadband industry is keenly focused on network speeds. But operators have not been able to raise ARPUs commensurately with the increased speeds of Wi-Fi and PON.
Now SDN offers a way to generate new revenues and gain competitive differentiation. This demo explores how slicing enables virtual private networks that are optimized end-to-end for guaranteed latency, bandwidth, security, reliability, etc.
Get more slices of revenue with premium services for:
Cloud gaming
Remote working
Industry 4.0
Or the limitless possibilities in the Metaverse!
Broadband network automation
Cloud and automation are fundamental aspects for every network operator.
Nokia has created a cloud-native platform: the Altiplano Access Controller, with a wide range of APIs and tools to visualize, optimize and automate the broadband network. Its open framework allows operators to generate data-driven insights and use Nokia, 3rd party or self-developed applications to get the most out of the network.
This demo shows how Altiplano delivers with fewer errors and higher accuracy for:
Network automation
Network operations
Capacity planning
Pro-active monitoring and anomaly detection
Automated problem resolution